Empowering you to achieve inner happiness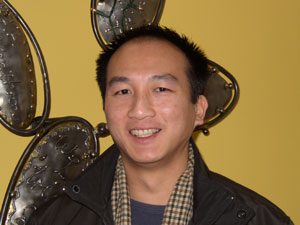 Darren Yap empowers busy, stressed out professionals to move out of their own way so that they can thrive under pressure by gaining clarity and focus so that they can make a difference. He employs a variety of techniques including breath training, mindset development, mindful movement, creative problem solving and mindful art.
With over 35 years of martial arts, mindfulness and movement training as well as therapy and corporate experience, he brings a wealth of understanding and concepts for personal development. He knows what it's like to be overwhelmed with work, dealing with tight deadlines and demanding colleagues and customers!
---
Learn to beat stress and anxiety with Darren's free course, Five Steps to Inner Calm
---
Helping to create a better community
Wimble Wellness is a community-focused organisation (social enterprise). Although a source of health and fitness opinion, the primary activities involve delivering free and affordable stress-beating mindfulness and mindful movement relaxation classes and workshops to school children and people affected by cancer.
This organisation was founded by Darren Yap in 2001. Darren is a wellness coach, and offers tai chi, mindfulness, meditation, mindful movement, chi kung (qi gong), Emotional Freedom Techniques and Reiki to help busy people to achieve inner peace, de-stress, quit smoking, lose weight and improve their wellbeing. He works with clients of all levels of fitness and ability including the elderly and cancer patients.
Since graduating in 1993, he has pursued a career in various roles working for organisations such as Barclays Bank and Kingston University, so has a very good understanding of what it is like to lead a hectic and busy life, while maintaining both good physical and mental health.
When not working, Darren can be found on a tennis court frantically trying to hit the ball back over the net, practising tai chi, painting abstract art or reading a non-fiction book.
Healthy Body, Healthy Mind and a Focus on Mindfulness and Meditation
Darren has always been passionate about spreading joy and harmony, which comes about from an holistic approach to good health, covering mind and body. And whilst he is still very passionate about nutrition and physical fitness, it has become very important especially in recent years to really promote the idea of the mind body connection as there are so many people who accept that they must do something about their physical health and yet the whole issue of mental health is still a massive taboo subject in the UK as well as in other Western Countries.
The reality is that we cannot hope to truly achieve total well-being without improving both our physical and mental health in tandem. Mindfulness can help the practitioner to get in the space between thoughts and achieve inner calm; mindful movement achieves this by gently moving the body, covering both the body and mind aspects which is why Darren founded Wimble Wellness.
And so, Darren teaches mindfulness and mindful movement to help people to achieve a sense of inner calm in a modern world.
As featured on radio!
"I had the pleasure of meeting Darren through my work with Radio Jackie. I found a deeply intelligent man with an ability to blend down to earth common sense and scientific thought cleverly with a more esoteric understanding of Chinese medicine and energy meridians. He provides a compassionate attitude and pleasant surroundings.
"EFT is a powerful technology that I would like to see taught everywhere. I recommend this man highly." Neil Long, neillong.com
"Thanks for what you did the other day. My cravings have gone. My arm no longer hurts. It is truly amazing. If they come back I will continue with the techniques. I am also very busy at work and I am content with it and enjoying it. Thank you again." Oliver, Portsmouth
"Professional but relaxed."
"Amazing. I saw bright colours."
"A lot of food for thought!"
Imagery
All images courtesy of Alex Yap, Unsplash and Corel.
Keywords
Tai Chi, Chi Kung, Mindfulness, Meditation, Mentoring, Coaching, Emotional Freedom Techniques, Reiki, Safeguarding Training, Vulnerable Adults Training, Enhanced DBS (formerly CRB), Prevent Training, Martial Artist, Sports Coach.
Enquire now
Recent Posts
More articles here: http://www.wimble.com/wellness/